Construction
SMIK offers the highest quality build with unmatched QC standards to shape accuracy.
Unlike 90% of today's board production, boards are hand-built in the HCT Thailand factory, which has a vast background of experience, as well as a core team of highly-skilled and passionate workers.
We currently offer three technologies, at different price points:
Biax Carbon PVC Performance, the lightest and strongest lay-up which not even the most expensive boards on the market can match.
Parabolic Carbon PVC Performance, our standard lay-up which offers one of the best price to performance ratio.
Full Wood Glass Performance, our price point lay-up which still feels light and crisp under foot.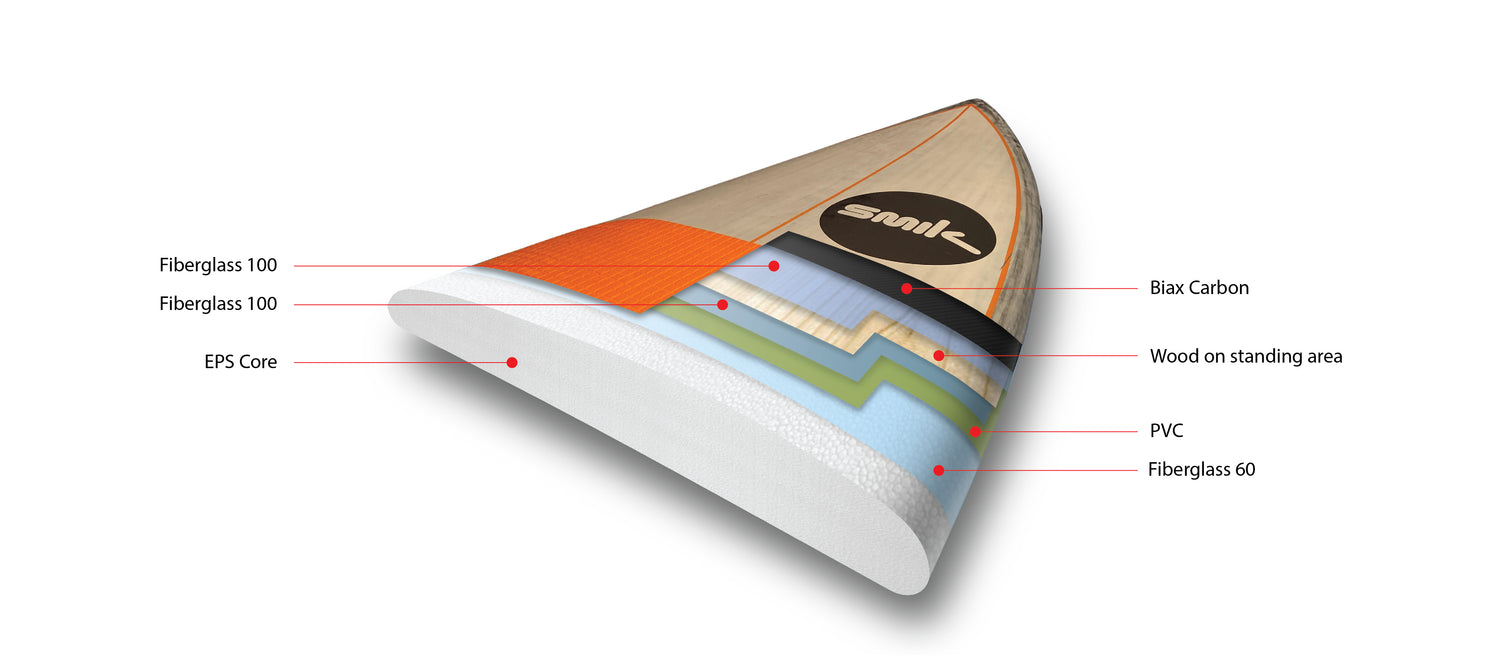 Biax Carbon PVC Performance
It is the strongest, lightest, most durable construction on offer, proven over the years.
Our Biax Carbon PVC Performance lay-up uses a full 5mm high-density PVC sandwich wrap, which is hand laminated around the lightweight EPS core and vacuum-bagged for quality and durability.
The lightweight EPS core are CNC-cut for maximum precision and accuracy.
It also features a full biaxial carbon deck to inject energy and reflex into the board, providing a crisp and light feeling underfoot, as well as providing phenomenal impact strength and liveliness.
Australian pine wood is used in the standing area to further prevent heel dents while the nose, tail, fin boxes and leash plug insert are reinforced with additional carbon patches.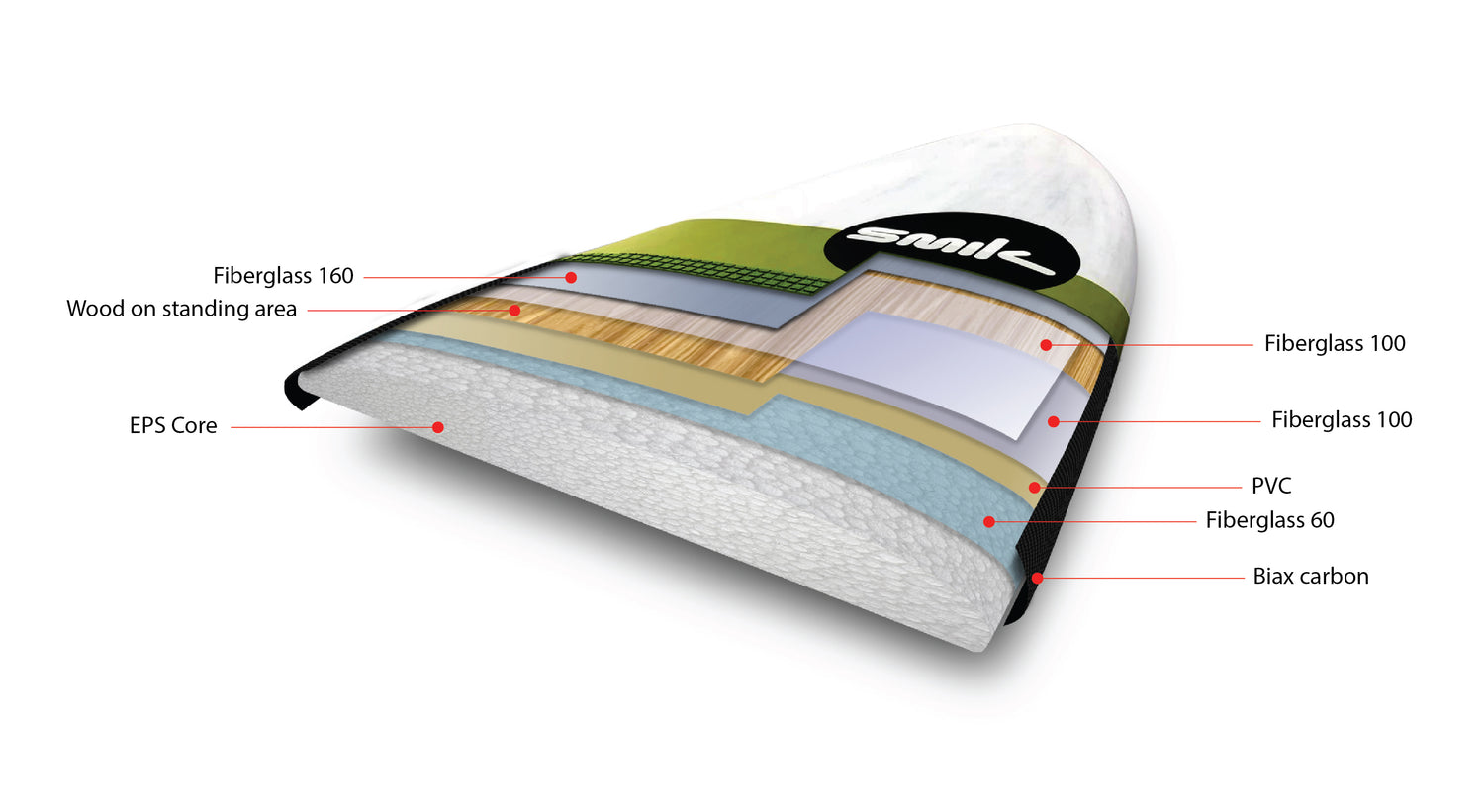 Parabolic Carbon PVC Performance
Our production lay-up that is light, strong but affordable.
Using the same full 5mm high-density PVC sandwich wrap as the Biax Carbon PVC Performance, the Parabolic Carbon PVC Performance is made more affordable by replacing the full carbon deck with fiberglass and instead using a parabolic biaxial carbon rail frame to stiffen the board.
It uses the highest-grade materials to ensure light weights and incredible durability while providing the optimum flex and reflex response.
The combination of the full PVC sandwich, Australian pine wood and biaxial carbon in the right places ensures your board will still be feeling solid well into the future.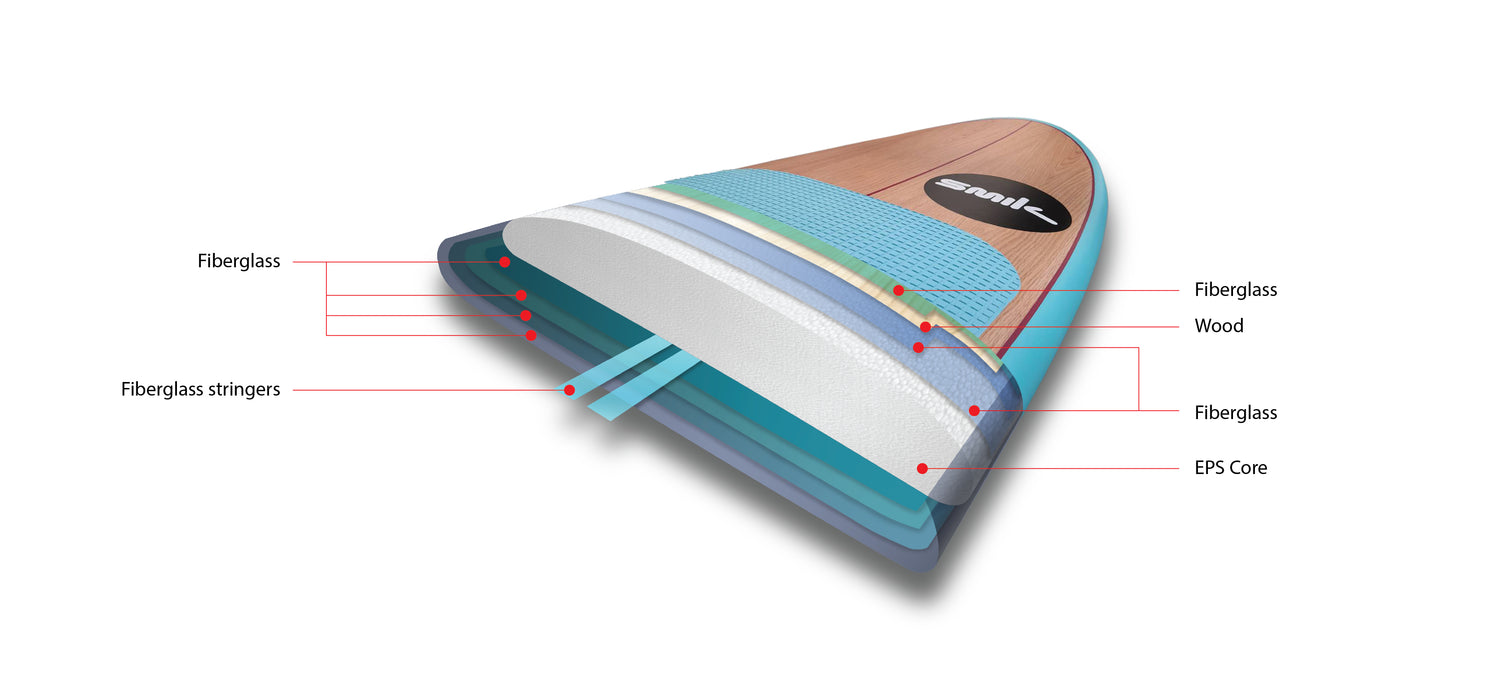 Full Wood Glass Performance
The price point technology that looks and feels good underfoot.
The Full Wood Glass Performance construction is our price point technology. It uses compression moulding to ensure accurate, durable shapes at an even more affordable price.
Boards with just EPS and glass laminates will quite quickly have heel indent around the standing area and tail where heels compress.
Our Full Wood Glass Performance construction, as the name suggests, uses a full wood deck, with additional wood reinforcement in the standing area for boards that feel crispy and light under foot.

Rails, nose and tail areas are reinforced with extra layers of glass and, combined with a double stringer, make the boards extremely tough and durable.
Beyond the Lay-Ups
Attention to details matters.
All boards come with a 3/4 deck EVA pad which is square-grooved for comfort and longevity. The tail pad features a tail kick and is diamond-grooved for maximum grip and control.
The SMIK carry handle is ergonomic and comfortable, for an easy and balanced walk down to the beach.
The fin boxes, as well as the leash plugs, are reinforced with PVC blocks to prevent rip-outs.